Taken from the issue No.1 of Y Seren, October 1985, this is an account of the history of the Parish according to the official archives of Douai Abbey.
The parish of Our Lady Star of the Sea, Mumbles, has, from its foundation in 1921 until the death of Father Laurence Devine in January 1985, been under the pastoral care of the English Benedictine monks of Douai Abbey, near Reading. Except for a period of nine months in 1956 when a secular priest, Fr Phillip Dwyer, was in charge, the Parish Priest has always been a monk of Douai. The Abbey has had strong links with South Wales, serving in times past, but no longer, the people of Aberkenfig, Bridgend, Danygraig and St David`s, Swansea. The Benedictines are still present in the Archdiocese of Cardiff with St David`s in Swansea now in the hands of Belmont Abbey (itself in the Archdiocese), along with the parishes of Abergavenny and Weobly. Ampleforth Abbey, near York, is responsible for the running of the parish of St Marys of the Angels, Canton, Cardiff.
The Benedictine mission of Mumbles was founded from Swansea and was served from St David's Church from 20th May 1906 with a temporary chapel. Until this time, the Catholics of Mumbles had to travel to St David`s Church for Mass, though at Eastertime this was celebrated in the house of Mrs Meter [sic] (possibly Meyer), `Dilston`, Thistleboon, for the convenience of those who could not make their Easter Communion at St David`s.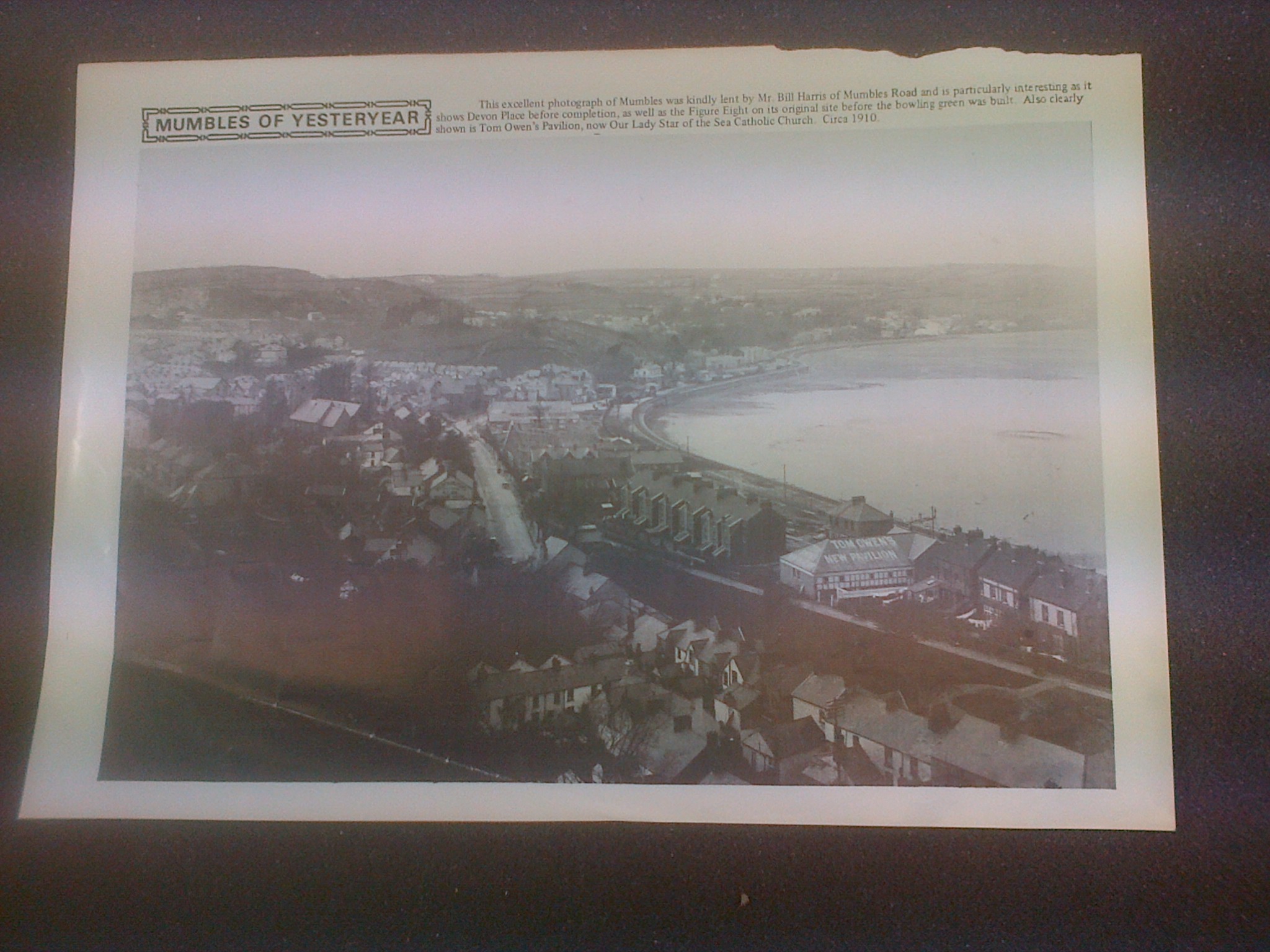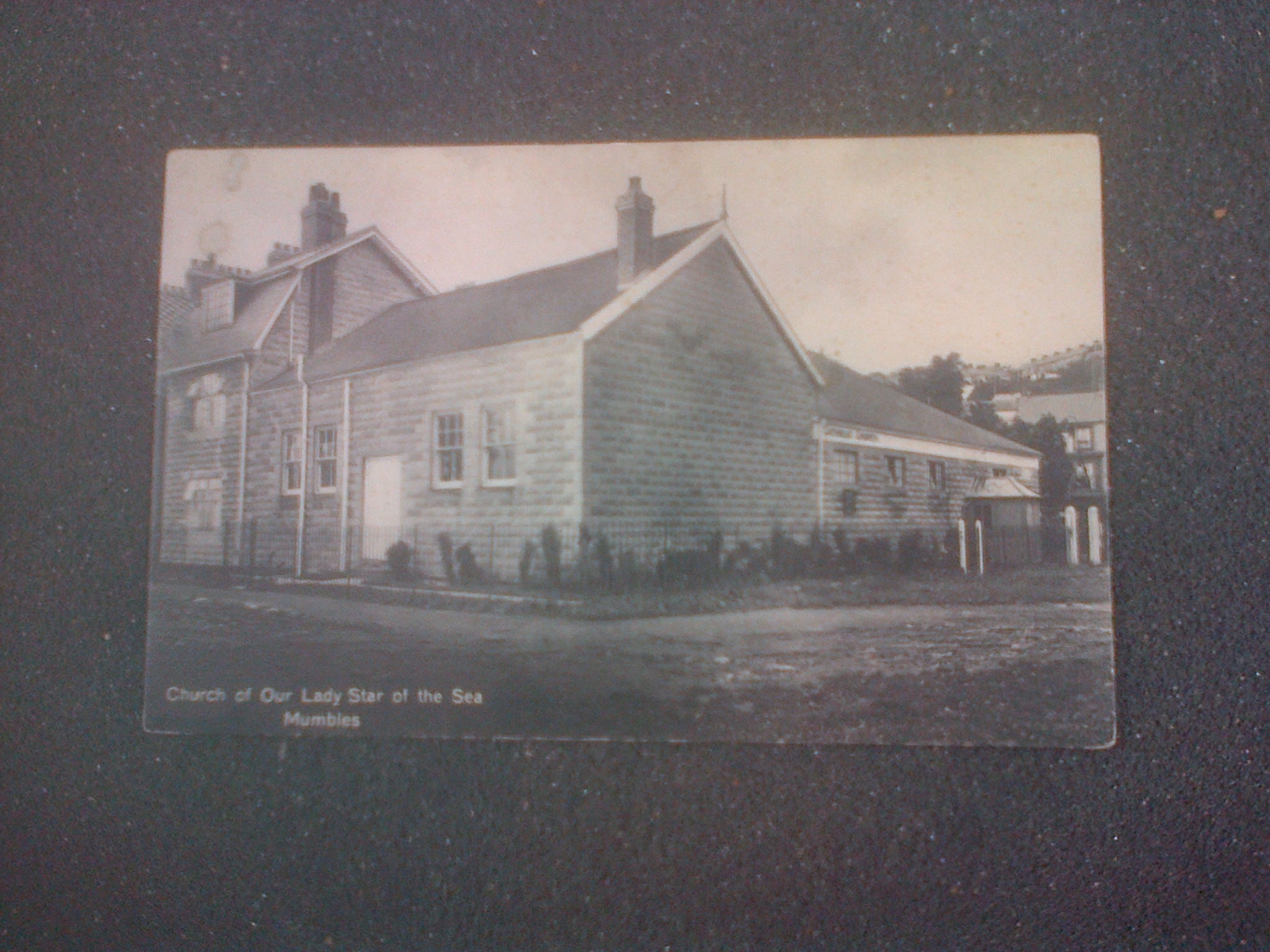 In 1906 Canon Basil Gwydir, the Parish Priest of St David`s, who as a naval chaplain lost his life in the wreck of the hospital ship `Rohilla`, rented a disused chapel at Mumbles (part of the central hall). He dedicated this to Our Lady Star, of the Sea, and said the first Mass on 20th May 1906. Mass continued to celebrated thereon Sundays and Holydays by one of the priest from St David`s until 1919.
In March 1919 Father Augustine Egerton of St David`s obtained a disused hall (Tom Owen`s New Pavilion) and converted it into a church which was opened on July 20th 1919. On that day Abbot David Hurley of Douai sang a Pontifical Mass and preached. The Abbot of Caldey was present in the sanctuary. Abbot Hurley took the evening Service and the Abbot of Caldey preached.
Abbot Hurley was to become the first resident priest at Mumbles, and he took lodgings in December 1921, staying with Mr & Mrs Copson in Bosworth House, Cornwall Place. It was the Parish Priest of St David`s, Fr Raymond Aspinall, who had asked Archbishop Mostyn of Cardiff if Mumbles should have its own Parish Priest to serve the some two hundred Catholics in the district. Consequently, Mumbles was constituted as a separate parish from St David`s, and the documentation from Archbishop`s House authorising this is dated 6th November 1925. Abbot Hurley had moved into the new presbytery on 1st January 1925.
In 1929 Abbot Hurley changed places with Abbot Stanilas (Austin) Taylor who was serving the parish of Maesteg. Abbot Taylor died at Mumbles in January 1934, and after a short period under the care of Father Sebastian Simpson, the parish was looked after by a Father Alban Harrington from April 1935 to September 1953. He retired back to Douai Abbey, and his place was taken by Father Andrew Gibbons until February 1956. After a short period with a secular priest in charge, Father Adrian Puntin became parish priest on 11th November 1956. He served the parish until 1977 when he also retired to Douai Abbey. His successor was Father Laurence Devine. He was given some help by Father John Grimbaldstone who was a former parish priest of St David`s and who had retired to Penard. Father Laurence died suddenly on January 15th 1985, and after a short period under the care of Father Nicholas Broadbridge, the parish of Mumbles was handed over to the care of the Archdiocese of Cardiff on St David`s Day 1985. This brought to a close the long association of Douai Abbey with Catholic life in South Wales as Mumbles was the last remaining parish under the care of the community.
From 1985 until 2019 several distinguished Diocesan Priests served the Parish, first from the Archdiocese of Cardiff, and then, when the Welsh Province was restructured, from the Diocese of Menevia.
Father Terry Flynn took care of the Parish during 1985.
Father Joseph Cefai followed him. Originally from Malta, Father Joseph came to Mumbles having been Parish Priest at St Peter's in Landore. He organized the purchase of the present Presbytery in Devon Place, carpeted the Church and Hall for the first time, and restructured the Sanctuary with a new Altar and Maltese Cross. He moved to become Parish Priest of St Joseph's in Port Talbot in 1989 and is Canon Provost of the Cathedral and Vicar General of the Diocese.
Father Sean Clancy succeeded Father Joseph, coming to Mumbles from Briton Ferry Parish. A quiet man, his unobtrusive help to many parishioners was appreciated, similarly his ready generosity to support the work of the SVP and CAFOD. He looked after the Parish for more than 20 years, retiring to Ballinascarthy, County Cork in 2009. He died on 27 March 2015.
His successor was Monsignor Canon Brian Kinrade, who came to Mumbles from Tenby. A former monk at Belmont Abbey, Monsignor Brian served as a Chaplain in the Armed Forces and as a Diocesan Priest. He combined his Parish work with being Vicar General of the Diocese. An erudite man, he was noted for doing both tasks effectively, calmly, and without fuss. Parishioners appreciated his succinct preaching and his kindness and capacity to help them find practical solutions in the face of problems.

Father Mansel Usher joined the Parish in December 2013 as Assistant Priest. He took over as Parish Priest when Monsignor Brian retired in July 2015. A late vocation to the Priesthood, Father Mansel was previously a skilled woodworker and furniture maker. Our Lady Star of the Sea was his first appointment as Parish Priest. Parishioners benefited from his house visits and blessings and his provision for young people. He was an active school governor in both the primary and secondary schools and in developing ecumenical links in the area. He was highly regarded as Chaplain to Singleton Hospital, and provided pastoral care to patients and families in times of distress. In February 2019 Father Mansel was moved to Tenby and the Bishop asked the Order of preachers (Dominican Friars) from the Nigerian Province to take responsibility for the Parish. The Dominicans were already in Swansea based at Our Lady of Lourdes in Townhill, as part of a major project to house Dominican priests who are sent by their superior to Swansea for postgraduate studies. Father Michael Akpoghiran O.P., Director of Evangelisation and Catechetics for the Diocese, was appointed Parish Priest in Mumbles.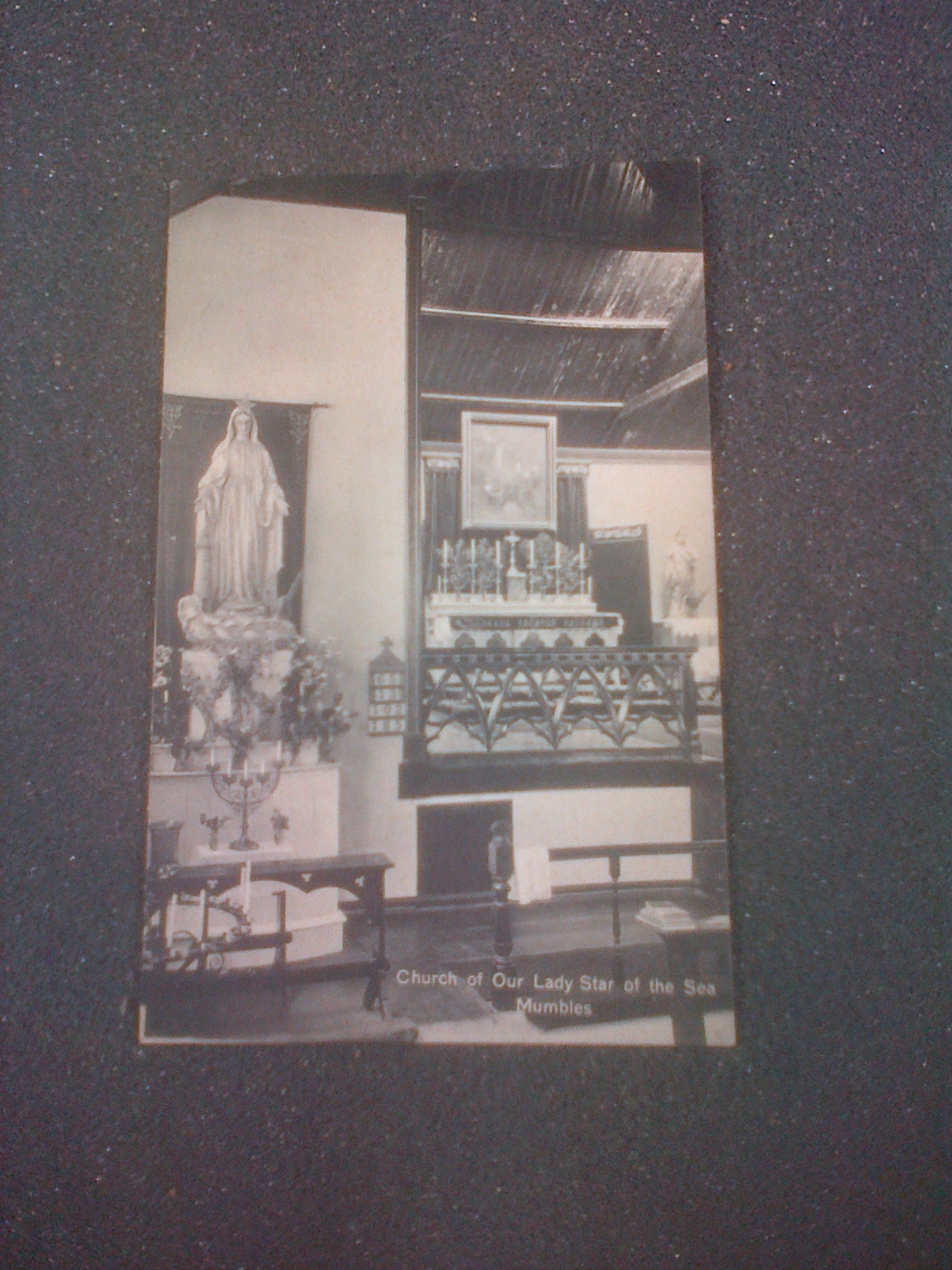 Parish Priests of Our Lady, Star of the Sea, Mumbles (Information from Douai Abbey and parishioners):
1921 – 1925 : Abbot David Hurley OSB (Bosworth House, Cornwall Place)
1925 – 1929 : Abbot David Hurley OSB (9 Promenade Terrace)
1929 – 1934 : Abbot Stanislas Taylor OSB
1934 – 1935 : Father Sebastian Simpson OSB
1935 – 1953 : Father Alban Harrington OSB
1953 – 1956 : Father Andrew Gibbons OSB
1956 – 1956 : Father Philip Dwyer (Secular Priest)
1956 – 1977 : Father Adrian Puntin OSB
1977 – 1985 : Father Laurence Devine OSB
1985 - 1985 : Father Terry Flynn
1985 – 1989 : Father Joe Cefai
1989 – 2009 : Father Sean Clancy
2009 – 2014 : Canon Monsignor Brian Kinrade
2014 –  2019  : Father Mansel Usher
2019 -     : Father Michael Akpoghiran OP
An excerpt from Orbis Terrarum of 1934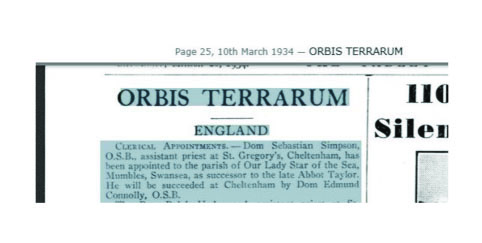 Can you spot our building?!
Yes, that's it - Tom Owen's New Pavilion, pictured here in around 1910, became the site for Our Lady Star of the Sea!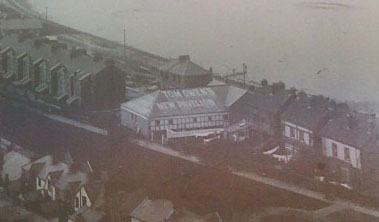 Here is a snippet from The Cambria Daily Leader of 25th May 1917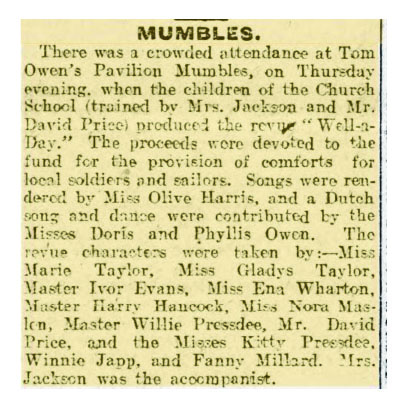 The Pavilion even gets a mention in the book "Sinners and Shadows" by Catrin Collier